Services
Control Panels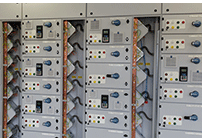 With nearly 40 years in the electrical engineering sector industry, the chances are that you will never be far away from a Stephenson Control Panel in a factory, supermarket, hospital, public building or theme park. We have built over 100,000 control panels in some of the most important production lines in the UK and abroad.
We manufacture control panels for a range of industries and applications, including Form 1 and Form 2 process control panels and motor control centres with Form 4, type 2 to type 7 segregation (to BS EN 61439).
We design and manufacture a wide variety of control panels using standard enclosures or custom made; built in steel, stainless steel, polycarbonate and other specialist plastics or polyester. Significant on going investment has increased our production area floor space to nearly 300m². This well-equipped space allows for extensive suites of panels to be manufactured and tested.
We routinely use high quality control equipment from leading manufacturers but are happy to use your preferred manufacturer or utilise your "free issue" equipment if desired.
All Stephenson Control Systems panels are wired to the highest standard by skilled technicians. Components and wires are clearly marked to allow for ease of future maintenance. All of our electrical equipment undergoes a full range of functional simulation and point-to-point testing which is documented to our rigorous quality standard. We are delighted to have achieved certification as an ISO 9001 company.
Electrical Control Systems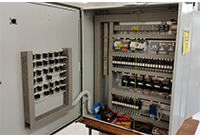 Stephenson Control Systems design and manufacture a wide range of high quality, electrical, control systems for any industry from power generation, heavy industry to confectionery and the world of leisure and entertainment. Every control system is designed to meet, exactly, the individual requirements of our clients.
An operational specification is agreed before electrical CAD drawings are produced and approved. Access and environmental constraints are taken into consideration before manufacturing commences.
As experienced system designers we take into account the generation of user requirement specifications, functional design specifications and detailed design specifications and can provide these specifications when required. We are specialists in control equipment for harsh environments and utilise specialist mild steel, polycarbonate and stainless steel enclosure systems to match the environment. As most control systems incorporate an element of automatic control our engineers are very experienced with a wide range of programmable logic controllers.
There are many instances where an existing machine is mechanically sound, but may have a dated or obsolete, electrical, control system. Stephenson Control Systems specialises in the electro mechanical upgrade of machinery including specifically;
* Compliance to current safety legislation
* High speed servo solutions including mechanical linkage/interface
* Retro fitting of new control equipment into existing locations to reduce costs of field wiring
* Commissioning, production support and training
* Full documentation and verification of design to relevant performance level rating
System Integration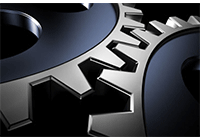 Apart from working with electrical, software and commissioning engineers to design and build control systems that meet the client's specifications, we have our own project management team to provide a complete "turn-key" solution.
We can design and manufacture the control system, provide the integrated software and organise installation and commission of any electrical control system. Alternatively, we can work with the client's team in any way they wish to provide a full solution. We work with AutoCAD electrical and AutoCAD design to produce electrical schematics, panel layouts and parts lists. Our engineering partners are experienced programmers in Rockwell, Siemens, Mitsubishi, Schneider, Modicon and can either write from scratch or work with our client's software engineers to test and commission a complete system. Our project managers have experience in delivering highly technical control systems on time and on budget across a wide variety of industries.